David Lamont is a Highly Talented Professional Actor and we are pleased to have him on the team of our Documentary/Drama programmes. And hope to do a special UKNTV series of short films with David.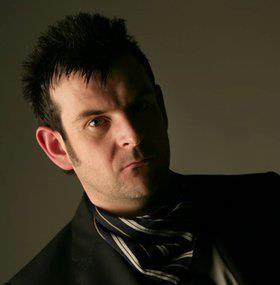 David Lamont is a professional actor and screenwriter from Manchester UK. He began performing in 2009 as a stage actor and appeared in many hit stage productions, taking on leading roles in the very early part of his career.
It wasn't long before David decided he wanted to move into film and as a result has written, produced and performed the leading roles in four short films entitled "FACES IN THE DARK".
David then went on to make appearances in various film projects including: A Hostile Situation, Killer Capone and Gangsters, Goons and Psychopaths.
He also landed a role in the winning entry of the "PITCH 2012" competition, the Simon Cookson film "THE LIGHT" which was premiered at Pinewood Studios early in 2014. "THE LIGHT" also had a screening in LA with top Hollywood producer Ralph Winter (X-Men, Fantastic Four) in attendance.
David made his TV debut earlier this year in a commercial for The Sun newspaper and is looking forward to doing more TV work in the future. As a Screenwriter David has also completed his sixth Screenplay, for film called "THE LAST SACRIFICE" on which production commenced in 2014.
ABOUT UKNTV
UKNTV (UK Northern TV) is a small independent Video Entertainment facility based in the North of England UK, creating high quality Video Media programming for everyone to watch. Our programmes range from Documentaries, Comedy, Drama, Chat Shows, Music Video, The Fact File Series, Horror, Cookery & various well presented Tutorials. All video is recorded to a professional standard and currently distributed via YouTube.
UKNTV (UK Northern TV) is currently a NON-Profit Making Organisation run by dedicated professionals with a passion for creating quality Video & Audio Media. We hope to increase our programme output as we integrate more presenters and crew. We produce commercial Corporate Video, Training Video, Showreels or Wedding Video production at competitive prices using our "Academy Studio Television" Professional Video/Audio facility.
UKNTV will undertake unpaid Video/Music production work for Charities & Good Causes at our discretion.
UKNTV will also produce Video Interviews of Unsigned Bands free of charge - once again at our discretion.
We always have our commercial Video/Audio Recording Studio facility available (Academy Recording Studio) with highly experienced professional engineers/producers and original music production personnel.
DISCLAIMER
Some of the UKNTV programmes cover subjects that are in our opinion unsuitable for viewing by children, but most are suitable for viewing by all. Any material that is unsuitable for Children will be clearly marked as such.
EQUIPMENT LIST
The UKNTV equipment list currently contains the following . . . .
VIDEO CAMERAS
Sony NX5E Video Camera, Sony PMW-EX1 Video Camera, Canon 70D DSLR Camera with Video Viewfinder fitted, Panasonic SD900 Video Camera, Canon 700D DSLR Camera, GoPro Black Edition Video Camera with long telescopic boom poles for "Crane Type" shots.
All Cameras have quality Manfotto Professional Tripods.
VIDEO EDITING
iMac 27 inch Computer running Final Cut Pro X, also Final Cut Pro Studio including Final Cut Pro 7.
AUDIO HARDWARE
Sennheiser 416 Microphone with Boom Pole & all Rycote accessories, Rode NTG3B Microphone, Sennheiser "EW" series Wireless Microphones (6 complete systems) Tascam DR-60D Digital audio recorder (2 available in total). We have a good collection of quality Sennheiser MD421 & MD441 Dynamic Microphones, plus various other AKG Dynamic Microphones and high grade studio condenser microphones are available including a superb Neumann U87i for the highest quality of vocal recording and a "SE Gemini 2" Valve Microphone (fitted with vintage "Mullard ECC82/ECC83 (12AU7/12AX7) Valves" for an excellent Valve Mic sound).
AUDIO RECORDING & EDITING
Battery or Mains powered Zoom R16 Digital Recorder for live multitrack Recording (We have Two in total linked together when required to allow for 16 track simultaneous live audio recording)
Pro Tools editing in the Studio through Tannoy "SRM" (Super Red Monitors) for Audio Post Production. The Studio currently uses a Yamaha 02R Analogue/Digital 40 input mixer.
MISCELLANEOUS EQUIPMENT
We also have a Wind Machine, 2 x Smoke machines, a full Professional lighting gantry (when required) with fully DMX controlled Digital & Analogue lighting. We use a variety of cool running Video lighting in mains & battery formats and we use a small generator to supply "on location power" where mains electricity is unavailable.
We have a permanent Green Screen Installation in the Studio which makes for convenient use at any time.